Preparing for Worship
We are currently holding worship services in person and on line via YouTube and Friends of Trinity Facebook Group. We ask that if you wish to join us in Worship that you sign up via SignupGenius. You may sign up for Worship at 9:00 or 11:00 AM. Use of Facial Coverings are strongly recommended. To help us prepare properly and maintain social distancing you will need to sign up for this service and agree to the expectations as listed on the Returning to Gathering Page. There will be Services of Holy Communion at both services. Check back to this web page for announcements concerning other activities at Trinity.
Sign up with Sign Up Genius.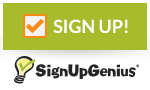 Prepare yourself for the experience by becoming familiar with the expectations. Click here for details.
The Mission of Trinity Lutheran Church:
Led by God, equipped as disciples through Word and Sacrament, we are empowered by the Holy Spirit to reach out with the Gospel of Jesus Christ to all.
The Vision of Trinity:
Growing in God's Word to Share Christ's Love
WHAT'S HAPPENING AT TLC?
Help with Odd Jobs
We need a few volunteers to help with several small jobs around the property such as weatherstripping, painting in the Meditation Garden, bookcase assembly, and more. If you can help with any small jobs like these, please contact Bud Gerdes directly or email Traci in the church office at trinityoffice@bellsouth.net
Scheduling Volunteer Needed
We need someone to recruit and schedule Ushers for both services. Please contact the church for more information.
Prayer Requests
Prayer requests may be emailed to trinityoffice@bellsouth.net

Hot Meals for the Homeless
The Board of Social Ministry has increased the number of meals we serve on Friday. We also have some new volunteers who are assisting with the cooking. Thank you! If you would like to help or donate to this venture, please contact Sharon Grefski. Designate donations to Social Ministry Hot Meals for the Homeless.
Hearts of Compassion Helping Hands Ministry
Volunteers needed to assist with clothes room sorting and helping those in need during Closet hours. For more information contact Greg Lucas.
Lizzie
Would you like a visit from Lizzie and a short devotion? The Evangelism Team is partnering with Lizzie and her handlers to come and visit you with a short devotional and prayer. If you are interested, please let the Evangelism Team know and we will schedule it for as soon as possible.
AmazonSmile
Holidays are coming and shopping at Amazon is so simple. Did you know that you could earn funds for TLC by shopping? The AmazonSmile gives money back to the charitable organization of your choice. The link to sign up for Trinity is https://smile.amazon.com/ch/58-1269942. The AmazonSmile program will donate 0.5% to Trinity. For more information, contact Greg Lucas.
How Can You Get Involved?
-Pray for our Pastor, Leadership, ministries and volunteers.
-Donate food items to the Blessing Box. All items need to be in their original packaging.
-Donate to any of our ministries at the Donation Station in the Social Hall. (SAFE Shelter, Hearts of
Compassion, Baby Steps, etc.)
-Donate yarn or cotton and flannel fabric for our outreach ministries. (Baby hats, blankets, face
masks)
-Donate funds for Hot Meals for the Homeless.
-Looking for someone to keep the SS bulletin boards in the Ed Bldg. updated.
-Yard work…talk to Mike and Bud about making an outside area "yours".
-Ushers needed.
-Join a Ministry Board and assist with their projects.
-Assist with cooking meals for the homeless.
-Take a name off the Angel Tree and purchase a gift for a child
-Purchase what you can for the Reverse Advent Calendar
-Send a card to our Homebound Members
-Send a card to those who are ill or suffering
-Join the prayer team