Sunday School is Back!
In Person Sunday School for ALL Ages
In the Social Hall and select Class Rooms Starting at 9:50 between Divine Services.
Divine Services times will return to 8:30 and 11:00 AM.
Preparing for Worship
We are currently holding worship services in person and on line via YouTube and Friends of Trinity Facebook Group. We ask that if you wish to join us in Worship that you sign up via SignupGenius. You may sign up for Worship at 9:00 or 11:00 AM. Use of Facial Coverings are strongly recommended. To help us prepare properly and maintain social distancing you will need to sign up for this service and agree to the expectations as listed on the Returning to Gathering Page. There will be Services of Holy Communion at both services. Check back to this web page for announcements concerning other activities at Trinity.
Sign up with Sign Up Genius. Click HERE to sign up for Wednesday Service.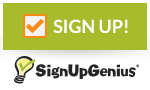 Prepare yourself for the experience by becoming familiar with the expectations. Click here for details.

he Mission of Trinity Lutheran Church:
Led by God, equipped as disciples through Word and Sacrament, we are empowered by the Holy Spirit to reach out with the Gospel of Jesus Christ to all.
The Vision of Trinity:
Growing in God's Word to Share Christ's Love
TRINITY IN ACTION
LUTHERAN WOMEN'S MISSIONARY LEAGUE
For over 77 years, the Lutheran Women's Missionary League (LWML) has been an official auxiliary of the Lutheran Church – Missouri Synod. The mission of LWML is to assist each woman in their relationship with Christ, encouraging and equipping women to live out their Christian lives in active mission ministries and to support global missions.
LWML History
"There's no question the church is behind you because in so many ways you are ahead of the church." With those words, a Lutheran historian applauded the progress of the Lutheran Women's Missionary League (LWML) since its founding in 1942. Its roots, however, go back nearly a century earlier. Beginning in the 1850s, women of The Lutheran Church—Missouri Synod (LCMS) www.lcms.orgstarted local auxiliaries to meet the needs of people—mending clothes for seminarians, equipping hospitals, establishing schools, developing convalescent and retirement homes, assisting orphanages and residences for people with disabilities, gathering clothing, furniture and food for indigents, and funding mission endeavors at home and abroad. Not until the 1920s, however, did members of congregational societies begin to coordinate their efforts by uniting in state and regional leagues. Oklahoma was first in 1928, but it took more than a decade before official approval was granted for a national LCMS women's organization. (Written by Marlys Taege Moberg)
In response to resolutions from two district groups, the 1938 LCMS convention established a committee to study "the problem" (of establishing a synod wide women's organization). The committee's 1941 report was favorable, and the Synod not only approved, but encouraged the creation of a general organization of women. Five pastors were appointed to arrange a meeting of representatives from interested districts. At that meeting, held July 7–8, 1942, at St. Stephen Lutheran Church, Chicago, Illinois, the Lutheran Women's Missionary League was founded by delegates from 15 districts. Today it is active in every district of The Lutheran Church—Missouri Synod. LWML has set a pattern for similar organizations in other countries where there are LCMS partner churches. (LWML History http://www.lwml.org/history)
TLC LWML News
Our LWML Board:
President: Lonna McEwen
VP: Sherry Kreger
Secretary: Rosemary Gerdes
Treasure: Sharon Johnson
Spiritual Growth: Ann Austin
Trinity's LWML meets the first Wednesday of each month. All women of Trinity are invited to attend.
On April 10th, Trinity will host the East Central GA LWML Zone Rally. Whether by zoom meeting on in person – this meeting will take place!
The Spring Festival is planned for Saturday, April 24th. The festival will include crafts, plants, and bake shoppe. More details to come. Next month we will continue with more information on LWML including missions and mites.
Karen Hanovich, TLC Marketing